SAN JOSE, COSTA RICA – LAST UPDATE  : NOVEMBER 2016
Leased Dish Network Satellite TV system with America's TOP 200 with upfront costs of USD $460.
(This is the receiver, the small 3ft. dish, the installation and 6 months of TV programming included)
After that … it's USD $180 per Trimester (three months of TV programming) for one receiver.
Clic here, if you would to go back to our main website to look at other alternatives where you own the satellite tv system.
AMERICAN DISH NETWORK TV IN COSTA RICA WITH A SMALL 3 FT. DISH
OWNING VS LEASING THE SATELLITE TV SYSTEM FROM US ??
OWNING DISH NET
LEASING DISH NET
What is the ownership status of satellite TV equipment after we leave your home?
YOU OWN IT
WE OWN IT
Do I need to return the satellite TV equipment when I am finished with my relationship with DISH NETWORK?
You do not have to return anything.
YES
Do I have full control of the satellite receiver? Do I get a LoginID and Password to my Dish Network Account to change things?
YES
NO
How much does it cost if I need offsite and onsite service support?
USD $75 to USD $200
FREE
How much are NEW parts, LNBS, dishes, etc?
USD $75 to USD $200
FREE
How much is a NEW satellite receiver remote?
USD $30 + Shipping
FREE
 Do I need to pay to fix it?

Say : "a TREE grew over my dish, previous workers broke the COAX cable, I need a new realignment for a new satellite, etc"

YES.

The incentive to visit you again will require a payment.

NO.

You don't pay an extra dime. You have leased sat equipment and you pay a monthly fee.

Can I pause/freeze my Dish Network Account so that I don't pay when I am out of the country ?
YES
NO

You will have to commit to pay every month.

Can I contact Dish Network directly to change things?
YES, you own the equipment.
NO
How much does it cost if I need to replace a bad receiver?
USD $250 to

USD $400

It's FREE
To whom do I pay the monthly FEE?
Monthly fee is paid Via Debit/ Credit Card to Dish Network Corporation Corp.
The semester is paid Via Paypal to SATELLITE COSTARICA, our company.
How much does it cost a Dish Network system on small 3 ft. Dish installation with ONE receiver?
Upfront costs : USD $850 + travel expenses
Upfront costs : USD $460.  with 6 months of TV Programming included. After that, you pay USD $180 per trimester.
How much does it cost a Dish Network system on small 3 ft. Dish installation with TWO receivers?
Upfront costs : USD $950 + travel expenses
Upfront costs : USD $580 with 6 months of TV Programming included. After that, you pay USD $210 per trimester.
How much does it cost to have Dish Network TV service on a Big 8 ft. Dish installation? Please keep in mind that a Big 8 ft. Dish will allow you to access hundreds of TV channels where the little 3.ft satellite dish won't…
Upfront costs : USD $2,400 + travel expenses
This is not available. We can not offer you a LEASED big 8 ft. Dish. You will have to buy the big 8ft. Dish.
How much is America's Top 200 TV Package when one satellite receiver is installed at the house?
When you own, it is USD $79/ month
When you lease, it is USD $60/ month
Do I have full control to change my current TV package to America's 120 Package or America's top 250 or even the Cheap Basic Pack for USD $35/month?
Yes… you own the satellite tv equipment, you can change anything…
No. You have to stay with America's TOP 200.
What is the best TV package for a retired couple on a fixed income?
America's Top 200
America's Top 200
Do I have to commit for one year?
NO
YES
What is the maximum number of satellite receivers that I can have at my house?
4 to 5 receivers
1 receiver
Where can you install the DISH NETWORK satellite service?
If you want to own it, then anywhere in Costa Rica.
If you want to lease it, then anywhere in the Great Metro Area but with some select customers we make an exception. Please ask.
I have a DISH NETWORK receiver from one of your competitors (another guy) in Costa Rica… Can I migrate my current DISH TV system to a LEASED receiver so that I have a business relationship with you and get the FREE support from you?
 NO

YES .

If you throw out the old receiver that was sold to you by the local Costa Rican competitor and replace it with our NEW LEASED receiver, then we could provide you with FREE support.

Our company sold you receiver(s) before, can we migrate your current Dish Network acocunt to a LEASED account with us?
YES. Very easy.
Can I get a DVR receiver ?
If you want to own it, YES
If you want to lease it,

NO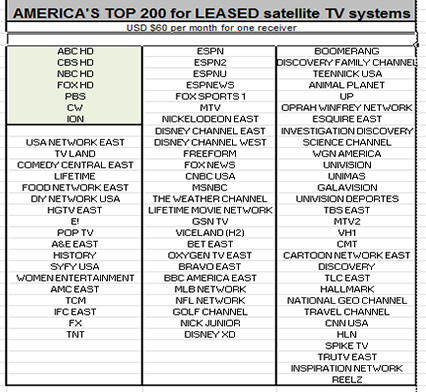 For more information about this package, please contact Alberto Araya, Computer Engineer from Western Michigan University at +506-8701-0007 or alberto_araya@hotmail.com (English, Spanish and German)
Please send your message to both email addresses : alberto@satellitecostarica.com OR alberto_araya@hotmail.com